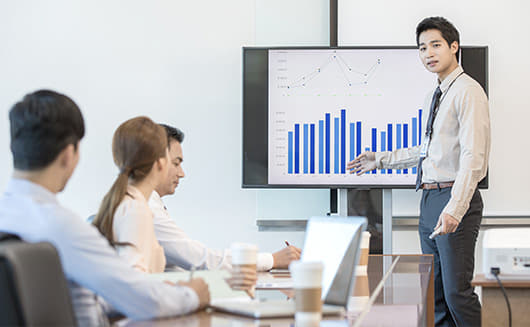 NuriFlex's industrial IT experts provides customized, cutting-edge IT systems and infrastructure, including factory and logistics automation.
Characteristics of industrial IT Infrastructure consulting

01. Solution & Service
We provide the best solutions and services from our years of experience in commercialization of various other solutions and know-how in automatic recognition equipment, such as barcode and RFID (electronic tag) technology.

02. Customize
We offer customized consulting that provides solutions that can be applied immediately and efficiently to a client's current system and process to attain the goal.

03. System Construction
We build the best system by considering various field factors that can affect the system, and by working together with clients.

04. Technical Support
We support and guide the technological aspects in the field by dispatching professionals with years of know-how and experiences
Expected outcome
We increase the efficiency of the company via professional, systemic, industrial IT infrastructure consulting.
Maximization of efficiency via automation and systemized work processes
Corporate and client-centered customized consulting
Ensured market competitiveness and development of the corporation's growth engine based on years of experience and technological expertise
Ensured system flexibility and expandability based on up-to-date development standards